About Arley & We
We do personalised embroidered clothing & accessories.
Arley & We started in 2019 just after the birth of my daughter Arley.
With our name the We part of our name is you; our customer!
Once you purchase from Arley & We you become part of our extended family 💙
I've been inspired by my beautiful daughter Arley to create fun, cute personalised clothes and accessories. I wanted to make these for her but wanted it to be good quality that would last. So I looked into embroidery and this is how Arley & We came to be.

Since starting with children's clothing and accessories I've expanded to include:                       
🔵 Personalised handmade bibs and burp cloths
🔵 Build it yourself name sake unicorn sets (coming soon)
🔵 Matching sets; for adult & mini
🔵 Tie dye apparel
🔵 Custom children's t-shirts
🔵 Baby/kids beanies
🔵 Personalised baby/kids tracksuits
🔵 Custom Baby rompers
🔵 Baby blankets
🔵 Towel sets (Standard; name & Deluxe; name and picture)
🔵 Dressing gowns
🔵 PJs
🔵 Work uniforms; Shirts, t-shirts, jumpers
🔵 Dog/Animal blankets
🔵 Dog bandanas
All work is embroidered & created with love.
We do custom orders by request.
Facebook Page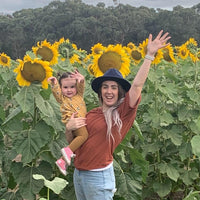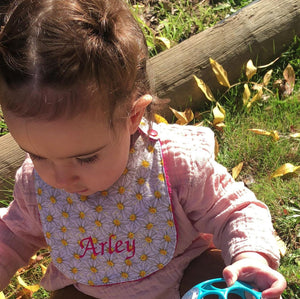 Handmade Range
We pride ourselves on our handmade range.
Did you know we offer Personalised Bibs and Burp Cloths?
COMING SOON- Personalised Name Wall/Room Hangings and will have kits to Build It Yourself Unicorn/Horse Name Sakes.
All made with love!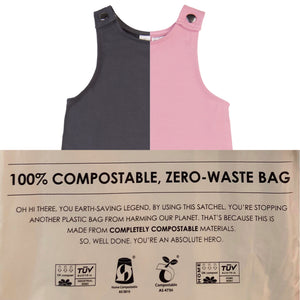 We stock Australian Made Products
So very proud that we can do our part to support our country!                          
We have sourced where we can Australian products and used Australian business to give you the very best quality!                                           Super excited also be using a mailbag from a Australian company which is 100% compostable.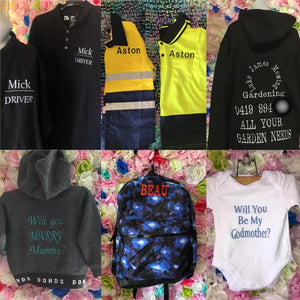 Custom Orders
Did you know we offer custom orders?
We can help you with your work uniform or maybe you are wanting to ask that special question or just wanting to make something unique.
To place a order or if you have any questions please get in contact.
What others are saying
The BEST in the business! Reliable, fast, great quality and quick reply's.

Bonnie P
Massive thanks to Arley & We for these gorgeous beanies, great quality and value for money. Simone was easy to deal with, will recommend to anyone and shop again. Thank you again.

Laura M
Great to deal with. Very professional but with the personal and homely touch :) Loved the set we bought our best friends newborn and it was done so quickly.

Kim F
Amazing quality and such gorgeous products! Made so fast as well, I'll definitely be back to order!

Maddy W
Very happy with the monogrammed PJ's for my mum for Mother's Day. She was thrilled. Great communication, prompt and friendly service. Thanks so much!

Erin M
Absolutely love the towel set I ordered! Super quick and super fast. Will definitely be ordering another!

Astley P